Welcome to the K-ON! Wiki, the free Internet encyclopedia about K-ON!.
We currently have 754 articles and 2,948 images and are still growing.

There are still many ways to help and complete the wiki!




About K-ON!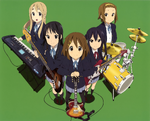 K-ON! (けいおん!, literally 'Light Music') is a Japanese slice of life and comedy four-panel comic strip manga written and illustrated by Kakifly. It was serialized from 2007 to 2012 and there are six volumes to the manga in total. Kyoto Animation produced the anime adaptation, which aired from 2009 to 2010 over two seasons of 12 and 24 episodes respectively. Additionally, many extras, bonus shorts, and even a feature length film, which premiered in 2011, were produced.
K-ON!'s plot revolves around the Sakuragaoka High School Light Music Club, which was on the brink of being disbanded until Yui Hirasawa joined as its fourth member alongside Ritsu Tainaka, Mio Akiyama, and Tsumugi Kotobuki. Later, they form the band Ho-kago Tea Time with their fifth member, Azusa Nakano. Though they do often spend time writing and performing music, the series focuses more on their day to day lives at school and the girls of the Light Music Club become notorious for slacking off, trips to luxurious villas, and of course, for afternoon tea time, just like their band's name.
Featured Fan Theory: Jun's Birthday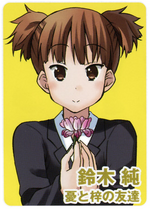 Jun is the only character of the main cast of K-ON, who does not have an officially published birthday, and so, the K-ON Wiki normally dedicates the month of June to her. However, after some in-depth research, we may be one step closer to figuring out her real birthday!
The first clue rests in the song Midnight SUPERSTAR☆☆☆ where Jun refers to herself as being born under the Aries star sign. The second clue is in the image to the left. This image was originally featured in Volume 4, Chapter 0 of the manga, on the character introduction page, and it depicts each of the main characters with their birth flower. The flower Jun holds has been identified as being the Astragalus sinicus species.
Even though this birth flower represents several dates, Jun being an Aries narrows down the possiblities to the following: March 20th, March 22nd, April 8th, April 13th, April 18th. Despite this spread of possible dates, most fan art and tributes seem to take place on April 8th, making it Jun's unofficial birthday.
If you would like to investigate yourself, a good place to start would be our rough notes, on this thread here, though you may need to be able to read Japanese to get really deep into the research.
Poll: Favorite HTT Member
Who is your favorite out of the five band members of Ho-kago Tea Time?
Community content is available under
CC-BY-SA
unless otherwise noted.