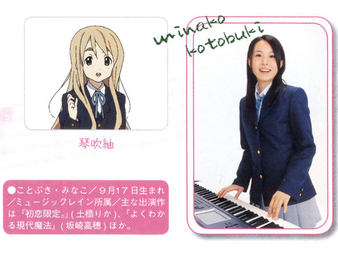 Minako Kotobuki (寿 美菜子 Kotobuki Minako) is a Japaness voice actor and a singer. She was born on September 17, 1991 in Hyogo Prefecture, Japan.
She is known for her role in K-ON! as Tsumugi Kotobuki or Mugi (nickname). Her career as a musician began with her performance of the opening and ending themes of the anime series K-On! in April 2009.
In the same month, she and three other voice actresses debuted as the musical group Sphere with their single "Future Stream". Her stage names are Mina-Chan (みなちゃん) and Bukki (ぶっきー).
Her singing career began in 2009 in the anime series with her other fellow voice actresses. Later, she then perform the opening theme with Aki Toyosaki, Ayahi Takagaki and Haruka Tomatsu. The four of them later affiliated with Music Ray'n. Now, all of them are known as the musical group Sphere.
2007
Minami-ke - Female Student B (ep 8)
2008
Kyōran Kazoku Nikki - Hijiri Yamaguchi
2009
Hatsukoi Limited - Rika Dobashii
K-On! - Tsumugi Kotobuki
Umi Monogatari: Anata ga Ite Kureta Koto - Kanon Miyamori
Final Fantasy XIII - Serah Farron (video game)
Toaru Kagaku no Railgun - Mitsuko Kongou
Yoku Wakaru Gendai Mahō - Kaho Sakazaki
2010
Asobi ni iku yo! - Chaika
Chu-Bra!! - Yako Jingūji
Hyakka Ryōran Samurai Girls - Sen Tokugawa
K-On!! - Tsumugi Kotobuki
Otome Youkai Zakuro - Daidai
Toaru Majutsu no Index II - Mitsuko Kongou
2011
A Channel - Yūko
Guilty Crown - Kanon Kusama
Dog Days - Veil
Manyū Hiken-chō - Chifusa Manyū
Ro-Kyu-Bu! - Natsuhi Takenaka
Softenni - Misaki Shidou
Tiger & Bunny - Karina Lyle/Blue Rose
Hanasaku Iroha - Eri Mizuno
Tamayura ~hitotose~ - Chihiro Miyoshi
Final Fantasy XIII-2 - Serah Farron (video game)
Beelzebub - Yolda, Kaoru Umemiya
2012
Natsuiro Kiseki - Natsumi Aizawa
My Stride (September 12, 2012)
Tick (September 17, 2014)
emotion (January 17, 2018)
"Shiny+" (September 15, 2010)
"Startline" (November 24, 2010)
"Dear my..." (September 14, 2011)
"Kokoro Sky" (April 11, 2012)
"Prism" (June 19, 2013)
"Pretty Fever" (November 20, 2013)
"Believe x" (Believe Cross) (April 16, 2014)
"black hole" (April 8, 2015)
"Candy Color Pop" (September 16, 2015)
"Bye Bye Blue" (March 2, 2016)
"Million Litmus" (December 7, 2016)
"save my world" (January 19, 2019)
2005
2006
2011
K-On! The Movie - Tsumugi Kotobuki
2011
Towa no Quon - Cyborg Delta AKA Hizuru Asuka
Minako is the youngest cast member; she was only 17 when she was cast, but voices the oldest main character.
She is also the only Japanese voice actress that is younger than her character, being exactly two and a half months younger than Tsumugi.
Community content is available under
CC-BY-SA
unless otherwise noted.