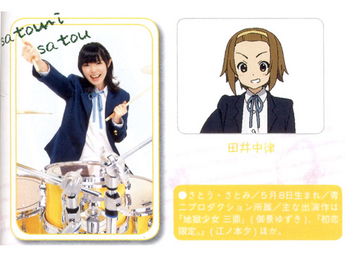 Satomi Satō (佐藤 聡美 Satō Satomi) is a Japanese Voice Actor. She was born on May 8th 1986 in Sendai, Miyagi, Japan. She is a graduate of Tokyo Announce Gakuin Performing Arts College. She is best known for her role as Ritsu Tainaka in the K-ON! anime series and Wendy Marvell in the Fairy Tail anime series. Her stage names are Shuga/Sugar (しゅがぁ), Shugarin (しゅがりん), Satosato (さとさと) and Shugami (しゅがみ).
2007
Kamichama Karin - Michirian
GeGeGe no Kitaro (fifth series) - Female High School Student, Girl, and Kijimuna
Shugo Chara! - Wakana, Ramira
Fantastic Detective Labyrinth - Yae Yatomi
2008
GeGeGe no Kitaro (fifth series) - Maid
Jigoku Shoujo Mitsuganae - Mikage Yuzuki
Hyakko - Inori Tsubomiya
Shugo Chara! Doki - Wakana
2009
K-On! - Tainaka Ritsu
Anyamaru Tantei Kiruminzuu - Rimu Mikogami
Asura Cryin' - Aine Shizuma
Asura Cryin' 2 - Aine Shizuma
Dragon Ball Z Kai - Cargo
Hatsukoi Limited - Yuu Enomoto
Yumeiro Patissiere - Kanako Koizumi
Toaru Kagaku no Railgun - Banri Edasaki, Girl
2010
K-On!! - Tainaka Ritsu
Mayoi Neko Overrun! - Otome Tsuzuki
Seitokai Yakuindomo - Aria Shichijou
Ookami-san - Machiko Himura/Mysterious Beauty
Fairy Tail - Wendy Marvell
Ore no Imōto ga Konna ni Kawaii Wake ga Nai - Manami Tamura
2011
Ro-Kyu-Bu! - Manaka Nobidome
K-On! Movie - Tainaka Ritsu
2012
Koumajou Densetsu II: Stranger's Requiem (紅魔城伝説Ⅱ 妖幻の鎮魂歌) - Hong Meiling
Magical Girl Lyrical Nanoha A's Portable: The Gears of Destiny - Kyrie Florian
Tales of the World: Radiant Mythology 2 - Descender
Tales of the World: Radiant Mythology 3 - Lazaris
Otomedius Excellent - Gesshi Hanafuuma, Ryukotsuki, Gradian Operator
Kisutī no kisutī taimu (kistyのkisty time) on internet radio station BBQR
Tomokazu Miki no rajio bigguban (智一・美樹のラジオビッグバン)*Tanahashi Mai to Satō *Satomi no ranchitaimu myūjikku (棚橋麻衣と佐藤聡美のランチタイムミュージック)
Mai to Shugā no masshu rūmu (麻衣としゅがぁのまっしゅ☆Room)
Rajio Dotto Ai; Satō Satomi no shugaa potto (ラジオどっとあい 佐藤聡美のしゅがぁぽっと),
Rajio☆Satomi Hakkenden! (ラジオ☆聡美はっけん伝!)
Gattsu Batorā Jī (ガッツバトラーG) - Girl
Nusunde Ririsu (盗んでリ・リ・ス) - Maid
Renai Idenshi XX (恋愛遺伝子XX) - Mizuki
"Koibito wa tententen" (恋人は……) with Kisty

As the voice actor for Ritsu Tainaka in K-on, she participated to four singles and one album.
"Cagayake! Girls" ranked #2 on Japanese Oricon singles charts.
"Don't say 'lazy'" ranked #3 on Oricon singles charts and was awarded *Animation Kobe's "Best Song" award.
"Light and Fluffy Time" ("ふわふわ時間") ranked #3 on Oricon singles charts.
"Ritsu Tainaka" ("田井中律") image song CD of the eponymous character, ranked #5 on Oricon singles charts.
Hōkago Teatime (放課後ティータイム) ranked #1 on Oricon albums charts.
Community content is available under
CC-BY-SA
unless otherwise noted.