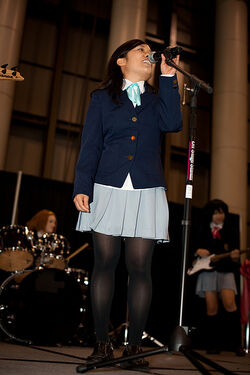 Stephanie Sheh is a Chinese-American voice actress who played the role as Yui Hirasawa in the English version of the anime. She has work for the Geneon Entertainment, Bang Zoom! Entertainment, Bandai Entertainment, Media Blasters, NYAV Post, FUNimation Entertainment, and Viz Media.
Other Role
Edit
In her other roles, she plays as Jennifer Sekiguchi, Tiffany Hsieh, Lulu Ciang, Laura Chiang, Becky Chiang.
Not only in anime, she also plays several roles in several scripts, video games, movie and documentaries.
Ah! My Goddess: Flights of Fancy – Satoko Yamano
Ah My Buddha – Haruka Amanogawa
Bakuman - Miho Azuki
Bleach – Orihime Inoue, Isane Kotetsu, Yoshi, Ryō Kunieda‎, Kazuya Usaka, Suzumebachi (Spirit)
Blood+ – Monique
Bobobo-bo Bo-bobo – Memma, Lemon Fizz, Ruby, Second Oldest Triple Bag, Super Denbo
Buso Renkin – Hanaka Busujima
Chaos;HEAD - Ayase Kishimoto
Code Geass: Lelouch of the Rebellion – Kaguya Sumeragi, Anya Alstreim
Code Geass: Lelouch of the Rebellion R2 – Addtional voice
Destiny of the Shrine Maiden – Himeko Kurusugawa
Digimon Data Squad – Megumi Shirokawa, Yokomon, Yukimi Botamon
Durarara!! – Rio Kamichika, Additional Voices
Eden of the East – Micchon
Eureka Seven – Eureka
Fate/stay night – Illyasviel von Einzbern
Freedom Project – Dispatcher/Girl, English ADR Director
Fullmetal Alchemist: Brotherhood - Brosh's little sister (ep 49), Additional Voices
Gurren Lagann - Kinon Bachika
Hell Girl - Yuria Todoka (ep 6), Miseria Yamamoto (ep 8)
Hellsing - Female Vampire, Waitress
Immortal Grand Prix – Yuri Jin, Bella DeMarco
Jungle Emperor Leo – Mary
K-On! - Yui Hirasawa
Kamichu! - Bekogero, Matsuri Saegusa
Kashimashi: Girl Meets Girl - Hazumu Osaragi
Kannazuki no Miko – Himeko Kurusugawa
Kekkaishi - Kirara Kawakami, Kyoko, Shizue Yukimura, Princess
Kurokami: the Animation – Excel
Love Wind – Nanoka Kohinata
Lucky ☆ Star – Akira Kogami
MÄR – Bell, Alma, Aqua, Daydream Fairy
Marmalade Boy – Yayoi
Mars Daybreak – Megumi Higashibara
Marvel Anime: Wolverine - Agent Tsukino, Miyuki
Marvel Anime: X-Men - Hisako Ichiki/Armor
Mobile Suit Gundam Unicorn – Audrey Burne (Princess Mineva Lao Zabi), Haro
Monster – Else, Clara, Young Vietnamese Doctor, Additional voices
The Melancholy of Haruhi Suzumiya – Mikuru Asahina
Melody of Oblivion – Coco Ninna-Nanna
Naruto – Hinata Hyuga, Naruto Uzumaki's Sexy Jutsu, Kin Tsuchi, Naruto Uzumaki's Ino Transformation (ep 192)
Naruto: Shippuden – Hinata Hyuga, Rin, Waitress (Episode 91), Additional voices
Paranoia Agent – Kamome
The Prince of Tennis – Tomoka Osakada, Nanako Meino, An Tachibana
Rave Master – Melodia, Harmonia
Sengoku Basara – Kasuga
Slayers Revolution – Sylphiel Nels Lahda, Zollan, Additional voices
Stitch! – Tarō
Street Fighter Alpha: Generations (OVA) – Sayaka
Strike Witches – Gertrud Barkhorn
Strike Witches 2 – Gertrud Barkhorn
Tamagotchi: The Movie - Mametchi and Memetchi
Vampire Knight – Sayori Wakaba
Vampire Knight: Guilty – Sayori Wakaba
Vandread – Shirley (Season 2)
Zatch Bell! – Penny, Shion Hibiki
Hyperdimension Neptunia: The Animation - Histoire, Abnes
Reference
Edit