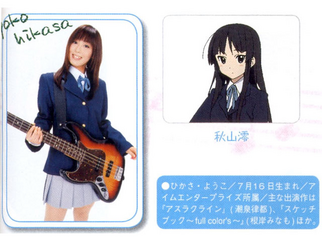 Yōko Hikasa
(日笠 陽子
Hikasa Yōko
) is the voice actress of
Mio Akiyama
.
She was born on July 16, 1985, is from Kanagawa and is now affiliated with I'm Enterprise.
Other Roles
Edit
2007
Sketchbook ~full color's~ - Minamo Negishi
2008
Ikki Tousen: Great Guardians - Girl B
Ghost Hound - Primary School Girl B
Persona: Trinity Soul
Monochrome Factor - Female Student
2009
Asura Cryin' - Ritsu Shioizumi, Kotori Arayashiki
K-On! - Mio Akiyama
Tetsuwan Birdy: Decode 02 - Witch
Luminous Arc 3 - Angel Miria
Toradora! - Female Student A
Nogizaka Haruka no Himitsu: Purezza - Iwai Hinasaki, Yayoi Kayahara
Basquash! - Child B
Umineko no Naku Koro ni - Satan
2010
Chu-Bra!! - Kiyono Amahara
The Qwaser of Stigmata - Hana Katsuragi
Ichiban Ushiro no Daimaō - Junko Hattori
K-On!! - Mio Akiyama
WORKING!! - Izumi Takanashi
Seikimatsu Occult Gakuin - Maya Kumashiro
Seitokai Yakuindomo - Shino Amakusa
Giri Giri Airu Village - Nyasuta
Sora no Otoshimono Forte - Hiyori Kazane
2011
IS (Infinite Stratos) - Hōuki Shinonono
Kore wa Zombie Desu ka? - Seraphim
Beelzebub - Azusa Fujisaki
Rio: Rainbow Gate! - Linda
Dog Days - Brioche d'Arquien
Moshidora - Minami Kawashima
Nurarihyon no Mago: Sennen Makyou - The Daughter of Kyokotsu
Ro-Kyu-Bu! - Saki Nagatsuka
The Qwaser of Stigmata II - Hana Kasuragi
Working'!! - Izumi Takanashi
2012
High School DxD - Rias Gremory
Inu x Boku SS - Nobara Yukinokouji
Code: Breaker - Sakurakouji Sakura
Gokujyo. - Akabane Aya
Danshi Koukousei no Nichijou - Yasu
Hayate The Combat Butler! CAN'T TAKE MY EYES OFF YOU - Kayura Tsurugino
Kore wa Zombie Desu ka? Of the Dead - Seraphim
Campione! - Erica Brandelli
2013:
Hayate The Combat Butler! Cuties - Kayura Tsurugino
Senki Zesshou Symphogear G - Maria Cadenzavna Eve
2014:
Bladedance of Elementalers - Restia Ashdoll
2015:
Senki Zesshou Symphogear GX - Maria Cadenzavna Eve
2017:
Senki Zesshou Symphogear AXZ - Maria Cadenzavna Eve
2018-2019:
BanG Dream! Second Season! - Tomoe Udagawa
Senki Zesshou Symphogear XV - Maria Cadenzavna Eve
Watashi ni xx Shinasai! - Yukina Himuro
Karneval - Tsubaki
Final Fantasy VII Advent Children - Edge Citizen
Keroro Gunso the Super Movie 3: Keroro vs. Keroro Great Sky Duel - Woman C
Sora no Otoshimono the Movie: The Angeloid of Clockwork - Hiyori Kazane
K-On!: The Movie - Mio Akiyama
Hayate the Combat Butler! Heaven Is a Place on Earth - Kayura Tsurugino
Black Rock Shooter - Shizu
Ken to Mahou to Gakuen Mono - Female Gnome
Granado Espada - Berroniff
MegaZone 23: Part III - Mami Nakagawa
Hakuisei Renai Shoukougun - Nagisa Fujisawa
Dangan-Ronpa: Kibou no Gakuen to Zetsubou no Koukousei - Kirigiri Kyouko
L@ve once - Meru Toritome
Lollipop Chainsaw - Juliet Starling (Japanese PlayStation 3 Version)
BanG Dream! Girls Band Party! - Tomoe Udagawa
American Graffiti - Carol (Mackenzie Phillips)
Without a Trace - Becky
Scream 4 - Jill Roberts (Emma Roberts)
Singles & albums
Edit
As the voice actress for Mio Akiyama in K-on, she participated to four singles and two albums.
"Cagayake! Girls" ranked #2 on Japanese Oricon singles charts.
"Don't say 'lazy'" ranked #3 on Oricon singles charts and was awarded *Animation Kobe's "Best Song" award.
"Light and Fluffy Time" (ふわふわ時間?) ranked #3 on Oricon singles charts.
"Mio Akiyama" (秋山澪?) ranked #2 on Oricon singles charts.
Hōkago Teatime (放課後ティータイム?) ranked #1 on Oricon albums charts.
"Rhythm Dimension" along with Shiina-Tactix.
Reference
Edit
Community content is available under
CC-BY-SA
unless otherwise noted.